Modern, Easy & Quick way to Cut Vegetable!🥔
We know you love cooking, that's why we introduce this Multifunctional Vegetable Cutter to make your meal easily & quickly!
Great Vegetable Cutter and Strainer Bowl comes with a unique straining feature that allows you to slice and clean your vegetables all in one bowl.
Equipped with 6 different blades, this handy kitchen device is a slicer, grater, and shredder all in one! It's a true time-saver!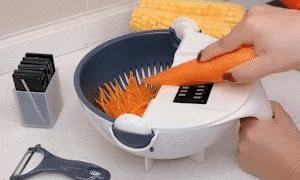 Made of high-quality, food-grade materials this multi-functional, 9-in-1, 
food-prep bowl is a cut above the rest! It's a vegetable cutter, food slicer, strainer, and bowl all in one. The rotating buckle allows for automatic rotation, so that the draining basket is always stable and swivels to the right angle to strain the water, after your vegetables have been rinsed.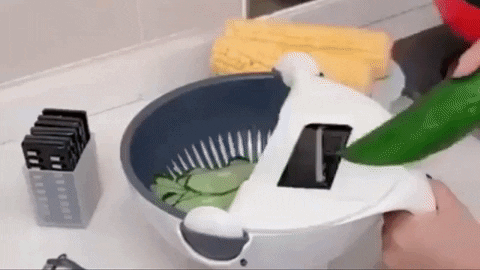 Can Be Used as:
Food Container with handle
Hand Protector
Colander
Vegetable Slicer (standard, julienne, wavy)
Vegetable Cutter
Shredder
Length: 15.0 (in cm)
Width : 10.0 (in cm)
Height: 8.0 (in cm)
Capacity: 100.0 (in ml)
Country of Origin: INDIA